Check Traffic Summons Malaysia Online PDRM, JPJ And AES. Pay outstanding traffic summonses or checking summons status for PDRM (Royal Malaysian Police), JPJ (Road Transport Department) or the Automated Enforcement System (AES) are really easy now.
With latest technology, you can check and pay traffic summonses easily for the PDRM, JPJ as well as AES. You can either using website (online) or through short messaging system (SMS). Its really fast and will take only few minutes to complete the checking.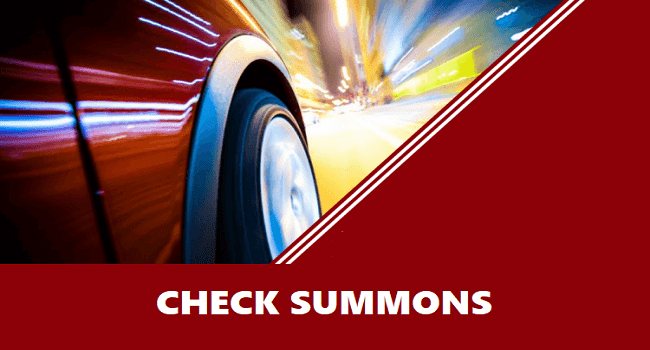 Latest Info : Police are offering a 50% discount to traffic offenders to settle their outstanding summonses online from June 18 to July 18, says Bukit Aman Traffic Investigation and Enforcement Department (JSPT) director Datuk Azisman Alias.
However, summonses currently under trial and major offences committed this year as well as offences involving heavy vehicles and exhaust modifications are not entitled to the discount. Payments can be made via the MyBayar Saman portal and application
1) CHECK TRAFFIC SUMMONS VIA ONLINE
There are 5 portals that are offering free online checking traffic summonses as below:
a. MyEG Services
The summons issued by the PDRM, JPJ and AES can be checked online at MyEG's website. Follow step by steps actions as below:
Browse https://www.myeg.com.my/
You must register first if you are using this service for the first time.
Login using your username and password.
Click EServices on the menu and select JPJ or PDRM. Kindly choose JPJ for AES summons
Select the appropriate link for the next payment action
MYEG also provide service that sends alerts to your email when you have new summons. This is a free subscription service.
b. Rilek e-Services
You can check the summons issued by Police only.
Kindly visit PDRM Summons and register (if you yet to do so)
Login using your username and password.
Click "Check / Pay Summons (es)" in the dropdown menu.
You can also make payments using this page via internet banking using CIMB, MAYBANK and RHB.
c. JPJ
Only for summons issued by JPJ only.
Kindly visit JPJ Portal Summons
Fill in all necessary data, followed by a security code (captcha).
Finally click the "Check". Review results will be displayed at the bottom, under the heading "Results".
d) SSO RMP
Sistem semakan online Polid DiRaja Malaysia :-
Visit SSO Sistem Saman Online
New user, please register under button Pendaftaran Baru
Login using ID Pengguna and Kata Laluan
e) MyBayar Saman
a) Portal
User Registration : Visit the MyBayar Saman portal at the link: MyBayar Saman.
Click the 'REGISTER' button to register a new user
Fill in personal information – no. identity card, name, address, email address and mobile phone number
Then, you will receive OTP confirmation on the mobile phone
Log in with the identity card number (for the User Id field) and the registered password
b) Mobile Apps
The MyBayar Saman application can be downloaded from the Google Play Store, Apple App Store or Huawei Gallery
2) CHECK SUMMONS VIA Short Messaging System (SMS)
You may check summons using mySMS service. A service charge of 15 cents will be charged for each delivery and 20 cents for each message received.
Here's how to check traffic summonses via SMS:
a) Check PDRM summons via SMS
Type: POLIS <space> SAMAN <space> [NRIC or No vehicles]
on mobile phones and send SMS to 15888 or 32728.
Example:
POLIS SAMAN 880101108777 or
POLIS SAMAN WWW3333
If you want more detailed informations, type the message as follows:
POLIS <space> SAMAN <space> [NRIC or No vehicles] <space> [email]
and send to 32728. Detailed summons will be sent to the email address that you provide.
Example:
POLIS SAMAN 880101108777 ferra88@gmail.com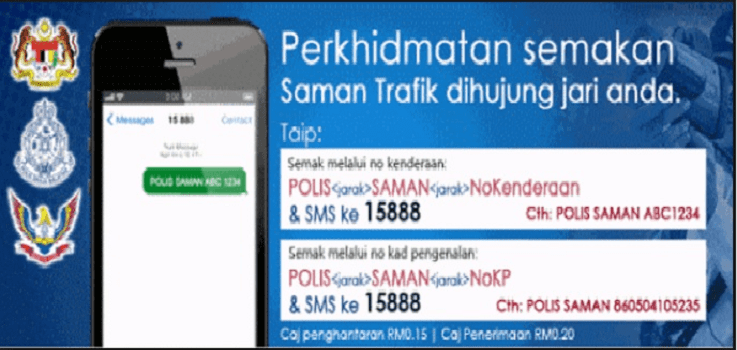 b) Check JPJ Summons via SMS
Type – JPJ <space> SAMAN <space> [NRIC or No vehicles]
on mobile phones and send SMS to 15888.
Example:
JPJ SAMAN 880101108777 or
JPJ SAMAN WWW3333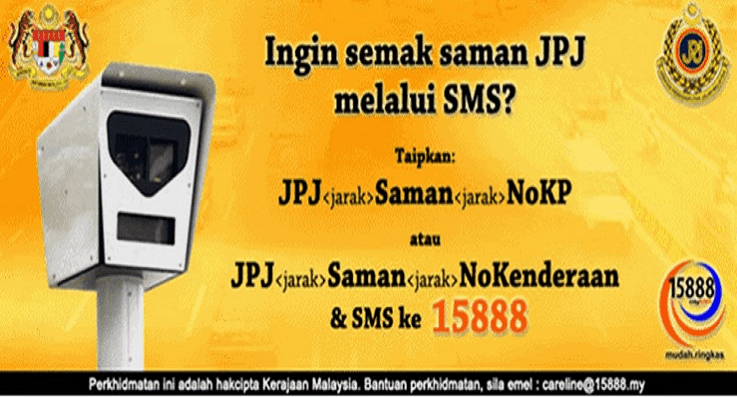 Related : vehicle registration number 15 sen saman trafik, traffic summons saman, check saman, police summons, road tax, kuala lumpur, outstanding summons, how to check summon with car plate number